Dental floss removes food and bacterial film trapped between the teeth before it has a chance to harden into plaque or calculus. Toothbrush bristles alone cannot clean effectively between these tight spaces. Using floss is an essential part of taking care of your teeth and gums.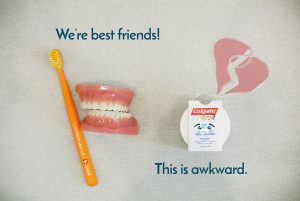 What happens if we don't floss?
Plaque that is not removed can harden into calculus or tartar, a hard mineral deposit that forms on teeth and can only be removed through professional cleaning by a dental professional. When this happens, brushing and cleaning between teeth become more difficult, and gum tissue can become swollen or may bleed. This condition is called gingivitis, the early stage of gum disease. In advanced cases, the supporting bone becomes involved, leading to periodontitis.
How often should we floss?
We recommend brushing twice a day and cleaning between teeth with floss, or another interdental cleaners like our favourite, interdental brushes! Dr. Loan Tram will be more than happy to talk to you about this, revise your technique and answer any questions you may have.
Pro Tips:
1. Use a section of floss around two hands spans long
2. Wrap the floss around your middle or index fingers
3. Move along to a "fresh" section of floss for each new tooth
4. Use an up and down motion, and imagine wiping up the side of the tooth
5. If you experience bleeding, don't fret! Just stop, rinse and go gently
Warning: Flossing and the fresh feeling that comes with it may become addictive.
Flossing is the key to preventing plaque build up, cavities and periodontal disease. At Central Park Dentist, we like to be extra thorough during our hygiene procedures and we carefully identify early signs of gum infection or cavities, and we thrive to provide the best dental care possible for our patients. If you would like more information on dental care for preventing gum disease or tooth decay, please contact us now at 02 6153 3134 or Book Online for a consultation.