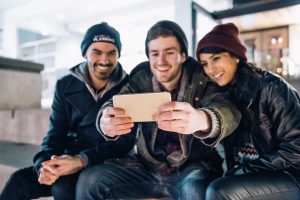 Do you want to smile with confidence? At Central Park Dentist, we are pleased to give complimentary smile assessments and chat to you about the different ways to make subtle or drastic smile improvements. Dr Loan Tram, at Central Park Dentist, Chippendale chats about this option in our four part series of latest ways to makeover your smile today.
Porcelain Veneers
Dental veneers may be a wonderful option for improving your smile. Occasionally, teeth become affected by multiple cosmetic imperfections, such as chips, stains, mismatched fillings, or general discoloration in tooth enamel. In this case, the patient had severely eroded and stained teeth that were resistant to whitening. Dr. Tram used a mostly additive approach to close gaps and black spaces, balance the bite and symmetry.

Our happy patient on the day of insertion. (Images courtesy of Dr. Loan Tram).
Preparation
Thanks to the latest technology improvements in Dentistry in the last 10 years, the veneer preparation procedure is very conservative and it usually requires minimal anaesthesia. These extremely thin shells of porcelain material (created in a dental laboratory), are bonded to the teeth. They can be as thin as contact lenses with the latest science and milling technology!
What to expect
Once they are secured in place, they will look like natural white tooth enamel. Moreover, the dental-grade porcelain will not be as receptive to stains as natural tooth enamel. This will help you enjoy an easy to maintain smile for many years to come.
Before you decide to go ahead…
Veneers could be just the solution you need for a more attractive smile. While the transformation of a tooth's appearance with a veneer can be astounding, veneers do have their limitations. You need an adequate amount of the tooth's structure present for a veneer to properly adhere — if not, you may need to consider a different option. Before you begin treatment, make sure you get examined and all then take the necessary diagnostic steps in order for your dentist to determine if this treatment is the best option for you. If you want to know if veneers are a good option for you just drop by and have a chat to our principal Dentist Dr. Loan Tram, or Dr. Peter Wu.
Check back later when we discuss "Latest options to improve your smile – Part Two: Bonding (Fillings)". You can find us conveniently in Central Park, Chippendale. Drop in, email or contact us on 02 6153 3134 or Book Online for an appointment.