Wisdom teeth are the third and final set of molars that erupt in the back corners of the upper and lower normal adult mouth. Unfortunately, most people experience problems with their wisdom teeth; in most cases, they are related to lack of space for them to emerge through the gums and align with the rest of the teeth.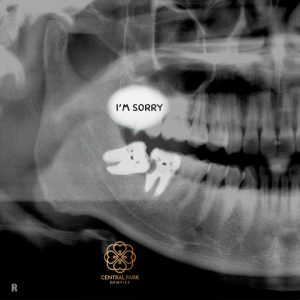 While we don't need wisdom teeth, it's not always necessary to remove them. For some people, there's adequate room for wisdom teeth to emerge without overcrowding, there is no discomfort present and therefore, the teeth may be kept in the mouth without causing any issues.
Early evaluation and treatment is recommended in order to identify potential problems and to improve the outcomes for patients requiring wisdom teeth extractions. Only after a thorough examination can we provide you with the best options for your particular case.
However, some wisdom teeth have no space to erupt. If they only have room to partially emerge, they can be extremely painful, as well as harmful to your oral health and hence, may cause infection and swelling. In some cases, they can affect the position and condition of neighbouring teeth.
Scientists believe that early human beings ate more raw grains, plant life and other foods that required more molar surface for grinding. As we evolved and learned to cook food, our diet changed. The theory is that as we evolved, our jaws became smaller, leaving less space for wisdom teeth.
At Central Park Dentist, we recommend you do not ignore wisdom teeth. Book a consultation and Dr. Loan Tram will be able to determine the most appropriate course of action in your case. If you would like more information or would like to have your wisdom teeth checked, please contact us now at 02 6153 3134 or Book Online for a consultation.
Related topics: